By Claudia Gualdi
Buenos Aires stretches across the Rio de la Plata and is a vibrant cosmopolitan city, a melting pot of indigenous, European and Asian customs and cuisines. The beautiful Japanese garden, located beside the Tres de Febrero Park, the city's first, is the perfect location for those looking for balance and harmony in the middle of the urban sprawl.
Other vast gardens and parks encompass the long avenues in contrast with rising skyscrapers and modernist buildings.
Regardless of where you are staying, the neighbourhoods of Buenos Aires are unique. Palermo is one of the most vibrant areas, where buildings are decorated with colourful graffiti and poems written on the walls.
Alternative coffee shops and bookstores are populated by students and remote workers. Recoleta is a fascinating mix of architectural masterpieces, such as the old Water Company Palace and the Cemetery, as well as clubs and rooftop bars, and small food kiosks on the roads serving traditional choripán ("chorizo sandwich") outside charming buildings.
While strolling around the city, it is common to come across people playing live music or doing the tango, the passionate dance style that originated in the late 19th century and has become a symbol of Argentinian culture.
Top three places to visit in Buenos Aires
Visit la boca and watch a match at "La Bombonera"
Watching a match at the Estadio Alberto J. Armando, popularly known as "La Bombonera," is a good idea, and not only because Argentina just won the 2022 FIFA World Cup. Attending a game in Buenos Aires is indeed a real experience even for non-football lovers. Football is part of the national culture.
Photographs and objects signed by famous football players are proudly exposed in restaurants and shops around the city. A few blocks from the stadium there is also La Boca, the colourful narrow pedestrian street evocation of the seaside villas of Genoa, Italy. Tango clubs and restaurants attract millions of tourists per year. Despite its popularity, visitors are advised to avoid the area at night due to the risk of theft and assault.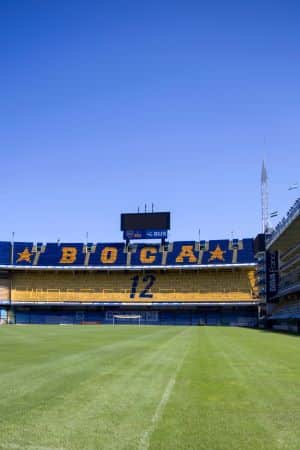 Take a stroll in Puerto Madero
Puerto Madero was once a decaying industrial district but is undergoing urban renewal. The long walk on the banks of the Rio de la Plata now leads to a free Ecological Reserve, a must-visit for cyclists, joggers and visitors attracted by birds, butterflies and turtles.
Day trips from the port of Buenos Aires to Uruguay are easy to plan as ferry services go back and forth every day to Montevideo and Colonia del Sacramento. When walking around Puerto Madero, tourists should be more careful in areas closer to Avenida España, where the Villa 31 favela is located. Foreigners have been reportedly assaulted in the past and subjected to pickpocketing and bag-snatching.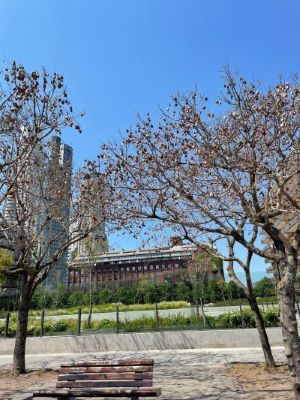 Mercado de San Telmo
The cuisine in Buenos Aires reflects the multicultural profile of the city and originated from a mix of different cultures and influences. The Mercado de San Telmo, located in the district of the same name, was built in 1897 by the Italian architect Antonio Buschiazzo to supply produce to European immigrants. Nowadays, it is one of the most characteristic tourist attractions in the city.
Every day, millions of visitors join in an essential part of the Argentinian dining experience, sitting in one of the hundreds of stalls offering empanadas, different types of asado ("char-grilled"), local wines and a variety of desserts made with dulce de leche ("sweet milk").
The venue hosts several events such as Noche del turismo, during which restaurants remain open late and locals play live music in the indoor space. Among the bodegas selling food there are also famous flea markets where visitors can find records, tango dresses and vintage postcards.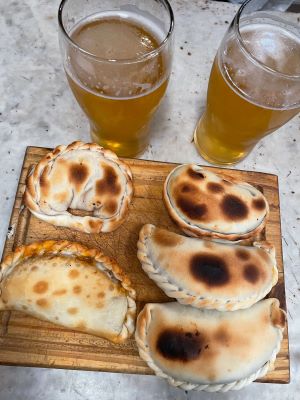 Travel risk tips
As in every big city, normal precautions should be taken by tourists. Some areas of Buenos Aires, such as Palermo, La Boca, Bajo Flores and Caminito, have a poor reputation for crime and drug use so should be avoided at night.
In general, tourists are advised to avoid walking late at night, especially unaccompanied. Travellers should also exercise caution during sporting events or public demonstrations, as clashes may erupt between attendees and police, particularly around the Obelisco on Plaza de la República, the Congress building on Plaza del Congreso and the Casa Rosada presidential mansion on Plaza de Mayo.
Argentina's economy has been hit by successive crises and high inflation for decades. When travelling to Argentina, you should be aware that the country has an official exchange rate with the US Dollar and an unofficial one, called "dólar Blue" or "efectivo," which is almost double the official rate.
Tourists can easily exchange dollars and euros for pesos in the so-called "cuevas", or caves, which are easy to find along the streets. Cash payment is preferable in most shopping venues and restaurants.
Public transport is not very efficient. If you arrive after sunset, choose a radio taxi with a visible company logo on the passenger doors. Other taxis may be unsafe for tourists, who are often victimised by scammers. Using a ride-share is a good and safe alternative although the price is likely to be higher. Learning some basic Spanish could be convenient, as English is not widely spoken in the city.
Claudia Gualdi is our Greece-based travel intelligence data team lead.