San Juan – The vibrant city of Forts, Festivals and Flavours
By Catherine Soltero
San Juan sits on the northern coast and is the capital of Puerto Rico, an unincorporated United States (US) territory located in the Caribbean. Founded in 1521 by Spanish colonists, making it one of the oldest European-established capital cities in the Western Hemisphere, San Juan showcases a diverse blend of indigenous Taíno, African and Spanish cultures that permeates every part of the city's customs and traditions. 
Whether travellers stay in historic Old San Juan or more contemporary areas like Condado and Ocean Park, they will find that each part of the larger metropolitan area, including Bayamón, Carolina, Guaynabo and Santurce, has its own flavour and rhythm.
Almost everywhere in the city you will either be walking distance or a short drive away from the coast. The beaches in San Juan are celebrated for their golden sands, pristine waters and biodiversity. Whether one's objective is to surf, socialise or sunbathe, San Juan has beaches for every kind of traveller. 
San Juan locals and Puerto Ricans in general are known for their friendliness and passion for their home. While English is widely spoken, Spanish is also an integral part of Puerto Rican identity and travellers who try to utilise some Spanish in conversation will find that locals are open to and appreciative of such efforts. Furthermore, although there are distinct differences between Puerto Rico and the mainland US, residents of San Juan are familiar with US culture and customs.

Top 3 places to visit
1. Wander through the cobblestoned streets of Old San Juan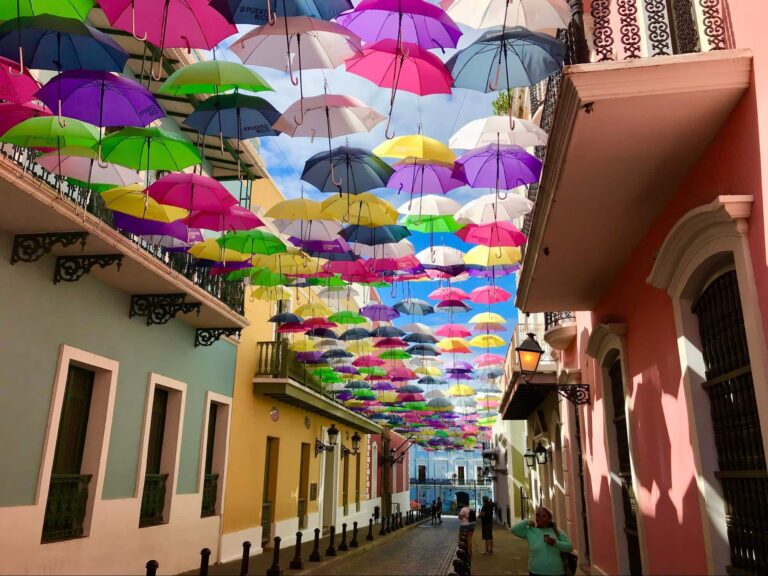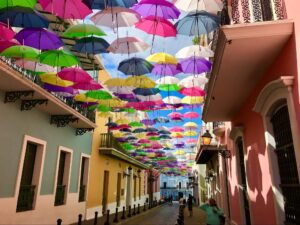 With over 500 years of history behind Old San Juan, there are multiple opportunities to explore historical sites, including Castillo de San Cristóbal and Castillo San Felipe del Morro, two military forts that have been converted into museums with panoramic views. Visitors can take advantage of the pedestrian-friendly layout to walk and marvel at the colourful Spanish-style colonial buildings, including La Fortaleza, the governor's mansion. Those who venture to Old San Juan in the evening will undoubtedly notice the various musical genres popular for dancing, including salsa, reggaeton, bomba and merengue, and may even encounter live performances. There are additionally a wide variety of food and drink options in the area, ranging from typical Puerto Rican fare, called criollo, to modern brunch restaurants and artisanal coffee shops. Cruise ship passengers can take advantage of the fact that their port-of-call is located in Old San Juan within walking distance of these sites. Taxi or rideshare services are recommended for travellers staying outside Old San Juan, as finding parking can be difficult, particularly on the weekend. When walking around, tourists should try to remain in areas with regular foot traffic and are advised, especially at night, to avoid La Perla and Puerta de Tierra. 
2. Grab a drink at Calle Cerra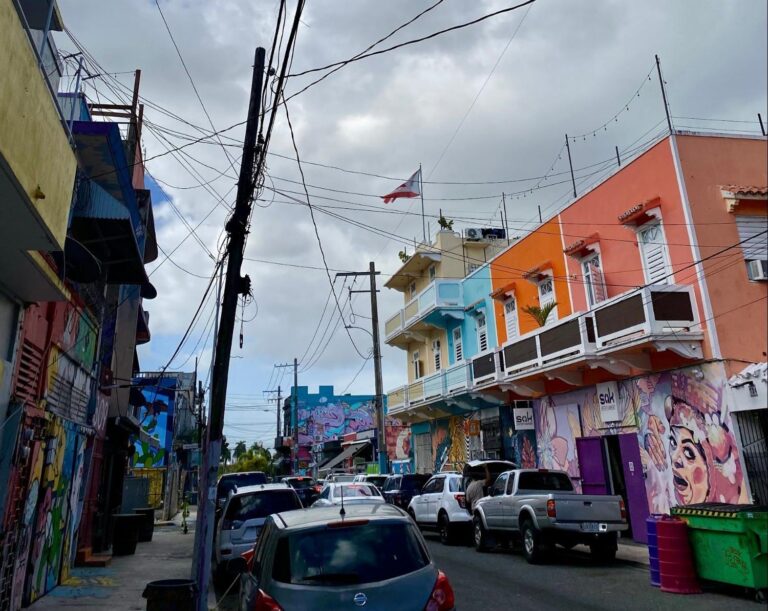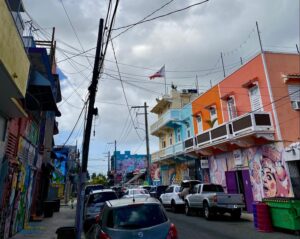 Located in the Santurce neighbourhood of San Juan, Calle Cerra boasts a rich creative history being that it was home to several salsa music labels for over 30 years. After a period of neglect following the closure of said record labels about twenty years ago, it has since been revived and is now a popular spot amongst locals for nighttime socialising, with numerous bars and restaurants lining the streets. Furthermore, Calle Cerra is one of the centres of an ongoing urban art movement in Puerto Rico and visitors can appreciate the numerous murals decorating the buildings. In fact, there are even annual art festivals hosted in Calle Cerra, such as Santurce es Ley and Los Muros Hablan, where artists are invited from all over the world to add to the existing labyrinth of murals.   
3. Sample local favourites in Piñones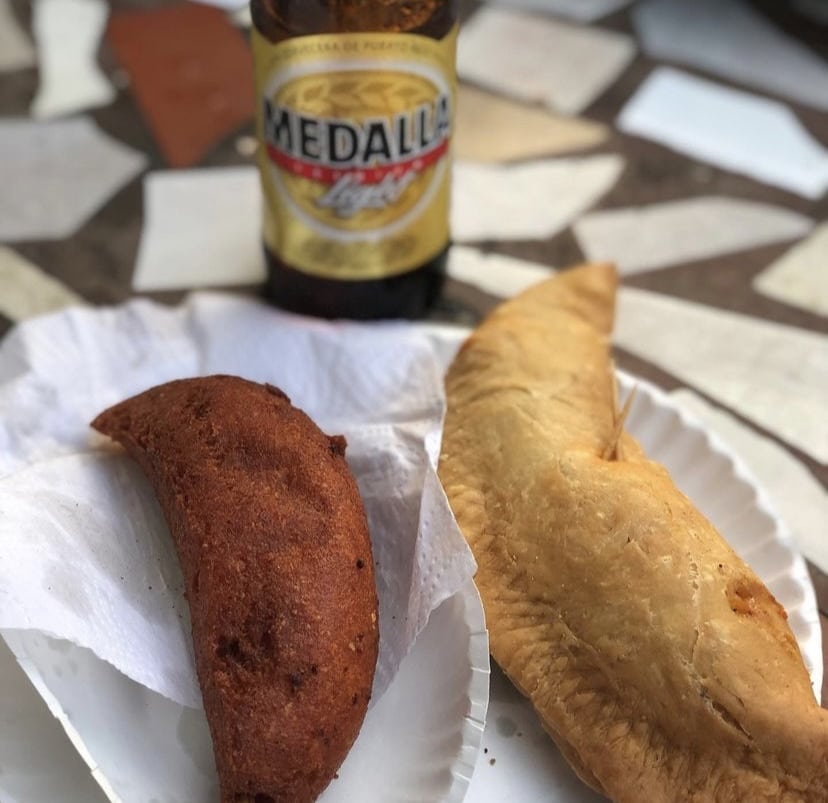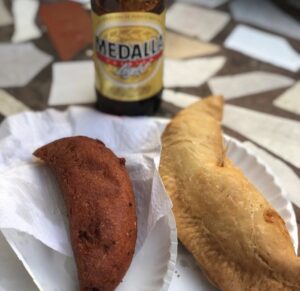 Travellers who are able to secure transportation should without a doubt make the drive to wo, a small beach town located about 20 minutes northeast of Luis Muñoz Marin International Airport (SJU/TJSJ). There, visitors can try frituras, or deep-fried dishes made from local ingredients and available at food stands, called chinchorros. Savour the wide variety of options, including salt cod fritters (bacalaitos), ground beef or seafood encased in fried yuca and plantains (alcapurrias) and puff pastry turnovers with assortment of fillings that include vegetarian-friendly options (pastelillos), all served with hot sauce. You can either stop by Piñones for a quick bite or take advantage of the proximity to La Pocita and Vacía Talega for a day trip at the beach. Most chinchorros accept credit cards but travellers should bring cash just in case. Most importantly, don't forget to pair your frituras with a refreshing Medalla beer or Coco Rico soda. 
Travel risk advice 
Travellers to San Juan should take the normal precautions as when visiting any other metropolitan hub, such as avoiding walking or driving late at night, especially alone in less crowded areas. Crime in San Juan is higher than other areas of Puerto Rico and while violent crime targeting tourists is rare, petty crime such as pickpocketing and robbery is a concern. Remain vigilant of your surroundings and belongings and avoid neighbourhoods with increased concentrations of drug and gang activity, including La Perla, Puerta de Tierra, and any public housing complexes – known as caserios or residenciales – particularly at night. Travellers can also decrease the risk of being targeted in crimes of opportunity by moving around in groups and not openly displaying valuables.
Public transport is available but not very widely used by tourists. Travellers should opt for a rental car or rideshare services. Urban roads are generally well-maintained, however potholes are common and traffic lights may go out of service, particularly in less populated areas. Police checkpoints or road construction may cause delays around urban centres, most commonly during weekends. Protests over economic conditions do occur but most are peaceful and localised.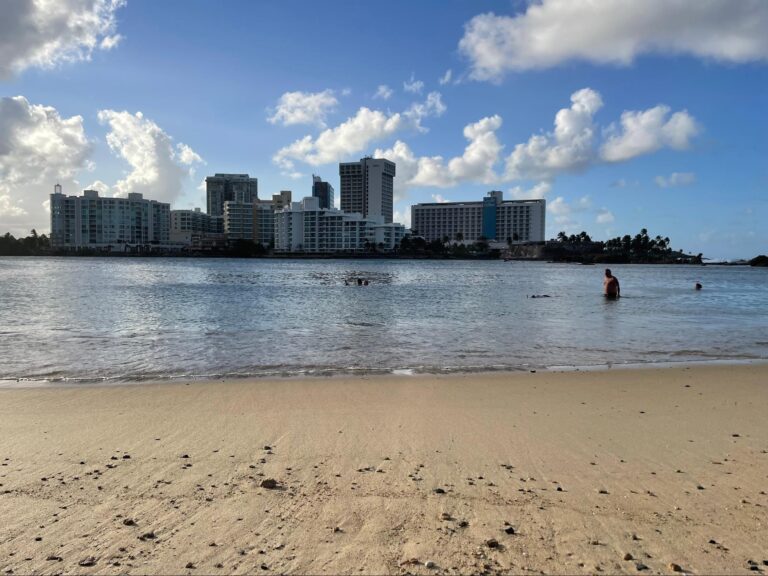 Hurricanes and tropical storms can pose a serious risk to travellers and those visiting during peak hurricane season between June and November should be aware that such weather systems can cut off access to roads and lead to major power outages that have the potential to extend several weeks. Earthquakes and tsunamis are also possible to the island's location in an active seismic zone, however, they are infrequent.  
Mosquito-borne illnesses such as Chikungunya and dengue fever, bacterial Mycoplasma and Ciguatera food-poisoning could affect travellers as well. San Juan offers a wide variety of options with standards of care that are on par with the mainland US. Wait times to receive medical attention, however, are notoriously long, even with a previously scheduled appointment. Travellers should anticipate delays at most healthcare facilities as well as high medical costs if receiving care without private insurance coverage. 
The US Dollar is the official currency of Puerto Rico. While cash or card payment is accepted at most venues, some smaller establishments may prefer bank transfer via the ATH Móvil app, available only for Puerto Rican and other regional Caribbean bank account holders.